Coming soon to Hollywood is a $600 million redevelopment of the aging facilities of the former TV Center into a modern 620,000 square foot urban studio campus featuring creative offices, studio grounds and four large sound stages. This production is brought to you by BARDAS Investment Group and Bain Capital Real Estate.
Located in the heart of Hollywood, the 6.4-acre site at 6311 Romaine St. is one of the largest development sites in the Los Angeles area. Spanning two blocks, it is bordered by Santa Monica Boulevard to the north, Cahuenga Boulevard to the east, Willoughby Avenue to the south, and Cole Avenue to the west. The property was once the seat of Technicolor and studio for Metro Photos Corp. The existing facility, built between 1930 and 1966, currently offers approximately 183,000 square feet of office and creative studio space.
---
READ ALSO: Creative economy drives LA office development
---
Bain and BARDAS, which formed a joint venture in 2019 to seek opportunities to acquire, renovate, develop and operate creative offices and other production spaces, particularly in the Los Angeles area, plan a state-of-the-art production facility that will be combined with the preservation of many distinctive buildings constructed during Technicolor's heyday. The new studio campus will be renamed Echelon Television Center, according to David Simon, founder and chief executive of BARDAS. Construction is expected to start in 2024.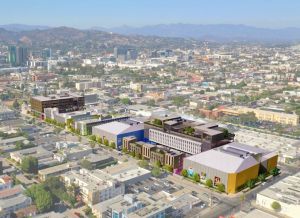 Simon said in prepared remarks that the project represents the company's continued focus on re-developing filler products for the entertainment and media industries in the content capital of the world. He said the revitalization of the former home of Technicolor and Metro Pictures represents a great opportunity to keep Hollywood in Hollywood.
The partners acquired the site in March. They plan to retain the original art deco facade on the north block and use it to enclose a studio which will be complemented by a new mid-rise creative office building with expansive private outdoor terraces with views of the rolling hills of Hollywood. The new construction will replace a parking lot and two dilapidated buildings on Santa Monica Boulevard. On the south block, a vacant parking lot will become the site of four large sound stages with a base camp. A six-storey creative office building will also be built on this site, along with production support space, private rooftop office bungalows and terraces.
Growing Niche
The property will be managed under the joint venture's Echelon brand, which offers hospitality programs and services including onsite experiences, wellness hubs, food and beverage brand operators and onsite management. place catering to the needs of the media and entertainment community. To date, the joint venture has invested and has a pipeline of existing and new development projects covering over 1.5 million square feet.
Last year, the joint venture announced plans for a $450 million urban studio campus on a 5-acre site at 5601 Santa Monica Blvd. at Hollywood. This plan, called Echelon Studios, will include four 19,000 square foot sound stages, a 15,000 square foot flexible stage and a 90,000 square foot creative village of high-end bungalows. The project, which is expected to begin in 2023, will also include 350,000 square feet of creative office space spread across two six-story buildings.
Joe Marconi, Managing Director of Bain Capital Real Estate, said in a prepared statement that BARDAS and Bain believe strongly in the demand drivers that are fueling the continued growth of the media and entertainment industry. He said they were thrilled to honor the TV hub site's past while delivering a project designed for today's content creators in the heart of Hollywood.
They aren't the only investment groups that see film and TV studios as a viable growth industry due to the rise of streaming services and the need for more media and entertainment content online. California has seen massive investment in the sector over the past decade, including a wave of new studio development projects.
Hudson Pacific Properties is among the developers expanding their sonic footprint in the Los Angeles area. The company operates Sunset Studios, which currently has approximately 3.5 million square feet of sound stages and office space. Sunset Studios is jointly owned by Hudson Pacific and funds managed by black stone and building Sunset Glenoaks in Sun Valley, which is estimated to cost around $190 million and will include seven flexible stages and 120,000 square feet of support space.
Hackman Capital has made approximately $3.8 billion in studio investments over the past three years and has 90 stages under construction. Other projects have been announced by Sylmar Studios, East End Studios, Quixote Studios and Shadowbox Studios.