The industrial sector continued to operate at full capacity, with e-commerce activity and fulfillment and logistics centers supplying most of the new supply brought to market. According business advantage According to the data, nearly 700 million square feet of industrial space was under construction at the end of June nationwide, representing 4% of the total stock.
Construction activity has been concentrated in the Sun Belt metros thanks to favorable market conditions and demographic trends, with Dallas-Fort Worth, Phoenix and the Inland Empire leading the way in this regard. Port markets and logistics hubs in the Midwest also performed well; Indianapolis, for example, has one of the largest pipelines in the nation by area and the second largest by percentage of existing inventory, according to CommercialEdge's latest industry report.
Using data from CommercialEdge, we identified the top five industrial development markets in the country while examining their active pipelines. These markets encompassed 196 million square feet of industrial space under construction in June, representing 28.0% of the country's total stock.
| | | | |
| --- | --- | --- | --- |
| Rank | Market | SF under construction | Inventory percentage |
| 1 | dallas | 60 659 670 | 7.22% |
| 2 | Phoenix | 44,440,543 | 15.50% |
| 3 | Inner Empire | 37,363,267 | 6.23% |
| 4 | Chicago | 26,851,838 | 2.72% |
| 5 | Indianapolis | 26,635,817 | 8.38% |
1. Dallas-Fort Worth
The Dallas-Fort Worth metro ranked first in industrial development nationwide, with 60.7 million square feet underway in June, representing 7.2% of total inventory. A combination of factors such as the state's business-friendly environment, high in-migration, as well as corporate relocations have contributed to the region's transformation into a sought-after destination for industrial investment. Nearly 14.9 million square feet have been delivered in the metro since the start of the year in June, covering almost as much as the second and third busiest markets combined.
As one of the largest distribution points in the United States, Dallas-Fort Worth is home to a wide array of third-party logistics companies. One of them is DHL supply chain, which is currently working on Elizabeth Creek Gateway-Building C in Justin, Texas, the largest ongoing project in the area. Construction on the 1.5 million square foot development began this spring, with completion slated for the first quarter of 2023.
2. Phoenix
Phoenix's industrial market is experiencing spillover development fueled by demand from tenants fleeing expensive and supply-strained Southern California. The pipeline under construction included 44.4 million square feet of industrial space in June, representing a staggering 15.5% of inventory. Deliveries in the first half of 2022 amounted to some 7.9 million square feet.
The largest industrial project underway in the metro consists of the first phase of Taiwan Semiconductor Manufacturing Co.of 3.8 million square feet, rising 25 miles north of Phoenix. The $12 billion project represents the largest foreign investment in the state's history and is expected to be completed in early 2024.
3. Inner Empire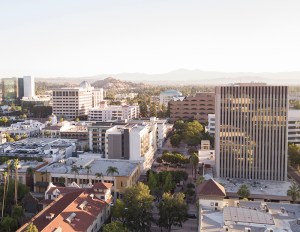 Southern California is the nation's most in-demand industrial region, and the Inland Empire is the main beneficiary. Some 34.5 million square feet of industrial space was under construction in the metro in June, representing 6.2% of total inventory. With the lowest vacancy rate in the country – a miniscule 0.6% – and the strongest growth in rents, developers continue to be optimistic in the area.
Although just over 7.4 million square feet of space came online in the subway between January and June 2022, development may be tempered in the coming years due to recent moratoriums on new developments. industrial. The largest ongoing project in the Inland Empire was Prologis'Merrill Commerce Center, a mega-warehouse towering at 8900 Merrill Ave. in Ontario, California. Once completed, slated for the end of 2022, the bespoke 4 million square foot development will house Amazon's largest industrial facility in the country.
4. Chicago
The nation's largest industrial market had 26.9 million square feet of industrial space in progress in June, or 2.7% of total inventory. Additionally, approximately 7.5 million square feet of industrial space was completed in the Metro during the first half of 2022. With below-average rental rates ($5.38 per square foot) and a of vacancy (4.9%), the distribution center remained a hot spot for new industrial development, including the first multi-story warehouse project to be built in the Midwest.
Notable industrial developments in Chicago include the 897,000 square foot custom build facility for Steel and wire plantat Gateway 57 Business Park in University Park, Illinois. Developed by a joint venture between Venture One Real Estate and CRG, the Class A building is scheduled for completion in early 2023 and is part of a planned 355-acre development located south of downtown Chicago.
5.Indianapolis
With its central location and easy access to domestic and international markets, Indianapolis has cemented its position as a major US logistics hub. The Midwest market, home to the world's second-largest FedEx hub, had 26.6 million square feet of industrial projects under construction in June, or 8.4% of metro inventory. Industrial deliveries in the first half were equivalent to 7.9 million square feet.
walmart is currently working on the metro's largest development, a next-generation distribution center dubbed Walmart Distribution Center. The 2.2 million square foot project will span 152 acres at 5300 W. County Road 500 N. in McCordsville, Ind. The retail giant opened the $600 million property in 2020, while delivery is slated for this fall.